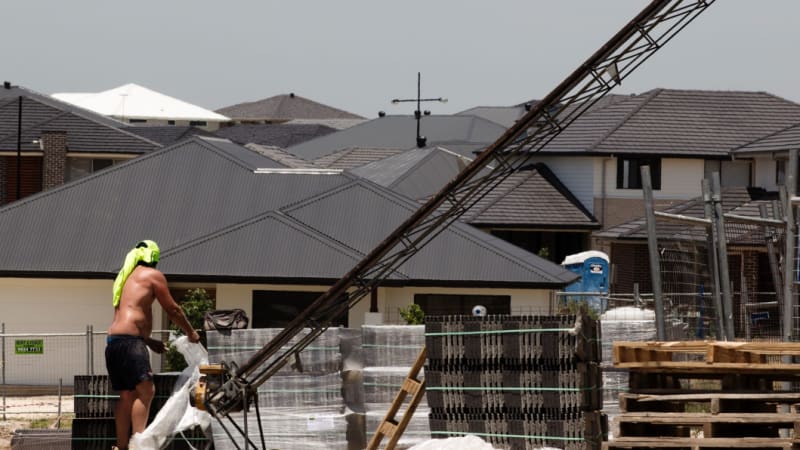 In contrast, home prices in regional areas fell by a smaller 0.1 per cent last month, trimming the gain over the past year to 0.3 per cent.
"Nationally, dwelling values are down 4.2 per cent since peaking in October last year, with dwelling values retracing back to levels last seen in December 2016," CoreLogic head of research Tim Lawless said.
Helping to explain the acceleration in national price decline last month, median values in Sydney and Melbourne fell by 1.4 per cent and 1 per cent respectively from October, a noticeable increase from the levels seen earlier in the year.
The decline in Sydney was the fastest since May 2004, leaving the nominal fall in prices over the past year at 8.1 per cent, the steepest since May 1983.
"The downwards pressure on national dwelling values is largely confined to Sydney and Melbourne which, together, comprise approximately 55 per cent of the value of Australia's housing asset class," Lawless said.
"Since peaking in July last year, Sydney's housing market is down 9.5 per cent which is on track to eclipse the previous record peak-to-trough decline set during the last recession when values fell 9.6 per cent between 1989 and 1991.
"Melbourne dwelling values peaked four months later than Sydney, in November 2017, and have since fallen by 5.8 per cent through to the end of November 2018."
Rather than being driven by one specific factor, Lawless says there are several reasons contributing to the recent acceleration in price declines being seen in Sydney and Melbourne.
"The tightening in finance conditions has been more pronounced across the investor segment of the market, where Sydney and Melbourne have recorded much higher concentrations of investment demand," he said.
"Additionally, housing affordability constraints are more pronounced in these markets and rental yields are substantially lower, indicating an imbalance between rental values and dwelling values.
"The ramp-up in housing supply has been more pronounced in these markets against a backdrop of slowing demand, and Sydney and Melbourne have also been more affected by the reduction in foreign buying activity."
And with demand softer and new supply continuing to increase, Lawless says total property listings now sit at elevated levels compared to levels seen in the past.
"Advertised listings have surged higher, providing buyers with ample choice which provides for a strong negotiation position on price" he said.
"The rebalancing towards buyers over sellers in Sydney and Melbourne is clear across CoreLogic's vendor metrics, with clearance rates tracking in the low 40 per cent range while private treaty sales are showing substantially longer selling times and larger rates of discounting than they have over recent years."
With so many homes currently up for sale in these cities, the recent pick-up in price declines suggests some vendors are choosing to lower their price expectations in order to secure a sale before a seasonal slowdown in market activity over summer months.
However, while median prices also fell in Perth last month, declining 0.7 per cent, Lawless says the weakness in Australia's largest and most expensive cities masked far more resilient performances from Australia's smaller capital city markets in November.
"Conditions across the Australian housing market are increasingly diverse," he said.
"Dwelling values are trending higher across five of the eight capital cities, albeit at a relatively slow pace compared with the previous surge in Sydney and Melbourne."
So while the national price measure is continuing to weaken, that is largely reflective of price falls in Sydney and Melbourne, rather than declines across the broader country.
Lawless says these trends are likely to be repeated in the short-to-medium term.
"We expect headwinds for tighter credit will continue for the foreseeable future and will continue to temper housing market activity," he said.
"This will be especially the case for those markets where investment demand is most concentrated, and where housing costs are high relative to incomes, such as Sydney and Melbourne."
However, in the absence of an unexpected sharp slowdown in the economy, leading to the potential for weaker employment growth, higher unemployment and potential softening in migration levels, or a spike in mortgage rates, Lawless says the current economic backdrop should act to support home prices in the period ahead.
"Despite the recent out-of-cycle 15 basis point rise in mortgage rates, the cost of debt remains at the lowest level since the 1960s," he said.
"From an economic perspective, GDP is tracking above expectations, unemployment is at the lowest level since 2012, population growth is strong and wage growth is slowly lifting from a low base.
"The factors should help to support housing demand and offset a more material decline in dwelling values."
For those looking for more granular details on price movements over the past month, quarter and year, this table from CoreLogic has plenty of information for those across the country.
This story first appeared in Business Insider. Read it here or follow BusinessInsider Australia on Facebook.